OK so I keep telling myself that I am
going to get
MORE ORGANIZED!!!
and yet...it hasn't happened yet!
I think I am a little better, but not there yet.
I have found several new blogs about organizing
and have gotten several great ideas.
One blog is having a little link up party
of different weekly challenges.
Surely I can get it done if I have a week
for each new task...surely...hopefully...
we'll see.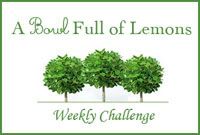 So if you want to check out what everyone else is doing
you can hop over to a
and check it all out...
I am off to gather my things for the first challenge...
A Home Management Binder
I really need this one!
I just HATE it when Scott asks me
"Where is so-and-so?"
which is usually some really important paper
that I have NO clue where it is!
So with Tax Time upon us I plan on using this to get it all together!
So, since we have yucky weather today,
I'm off to clean off my desk and get it all together!


I started off by sorting through all of the "stuff" on the desk...
bills, paid bills, receipts...
STUFF!
And I was feeling pretty good about my little task at hand...
until I started getting everything together for Scott to do our taxes.
I kept thinking,
"There has got to be more of this stuff to be filed...I'm not that good."
and then it hit me...
there was a box of things to file, sort and shred that I had
started to clean out before Christmas...
Now where is that box....
Oh yeah!! It's hiding under the table cloth covering the
file cabinet that I never put anything in!!!
Oh yes, here it is!
So I began going through the box, page by page...
Oh, there is my cute little orange notebook I was looking for the other day...
Yeah...it was on top of this little book...
I guess you can tell I am getting a lot of good use out of that one, huh.
So, after a while I had it all sorted out and ready to put it
into the binders they are intended to live in.
I shredded a bunch of stuff and found lots of things
that should have never been in the box to begin with...
like my car title...
umm yeah...not where it needed to be!
But, the good news is that it is all well on it's way
to being nice and organized.
I found plenty of binders and supplies to put together
my new little Home Management Binder...
which will hopefully keep this from every happening again.
Even better news is that I have everything together
for Scott when he is ready to do our Taxes...
aww yeah...no scrambling and searching this year.
WHOO HOO!!!!
I'm pretty proud of myself about that one!
So, tomorrow I'll be hole punching till my little hole puncher
can punch no more!!!
And then I will be putting my cute little notebook together!
Check back tomorrow and hopefully I'll have a sassy little notebook
to help me keep it all together!
I'll give you a hint...
it has stripes...
Sassy Stripes!!!!