OK...It's almost complete!!!
I got my Home Management Binder put together!!!
Yesterday I told you about the Weekly Challenges
at a Bowl Full of Lemons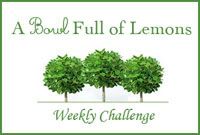 Today I got all of my things together.
I had bought a binder earlier and printed off some different pages
to use to see what it going to work best for me.
I started adding things in and put my calendar in and started to write in dates
and then realized that the last time I started to do this was
January of 2010!!!
So, my calendar was a little off...
DUH!
So I made me some swifty little labels to put on my divider tabs...
and put them all in my binder!
Planned out what types of things that I am going to keep in here
and am going to try to stick with the old saying
"a place for everything and everything in its place!"
I added a little scrapbook paper to the front and
slapped a monogram on it...
everything is more fun with a monogram
Right?
And I got straight to work!
Filled out the activities for the rest of the week,
and
got back to my filing project from last night!
I had a little helper today with my shredding...
needless to say a few things were shredded that I had
intended to keep!
But in the words of Jackson
"they are gone, gone ....rrrrrrrr"
and he would end with the sounds of the shredder...
Oh well...I can order more prescription cards, right?
So I am getting off on the right foot...
All of our Tax info is all together and old bills and statements
are filed or shredded...
It feels pretty good...
now just to keep it up!