We started off slow this Monday morning.
This is the first Monday back to school,
getting up and getting ready was not the most fun this morning.
I kept reminding Austin that we are 1/2 way done
with the school year trying to keep it upbeat,
but it didn't work very well.
Not to mention that we are in a fog...
literally.
It's 10:15 and we still can't see past the neighbor's house
that is right next to us.
Good thing we didn't have anywhere to be today.
It is suppose to be rainy and cloudy here all week.
So, since we have no place to go,
it's time to get back to those New Year's goals.
I am the type person who does better if
someone tells me what to do.
Especially if it is a task that I really do not enjoy...
like cleaning...
so when I found that
was planning on having a little link up party
I figured I would jump right in.
She has made up a schedule for you to follow
with a few tasks to accomplish each day.
She has also made a schedule of items to "Deep Clean"
through your house. This week is Bathrooms and she has a list of things to
help those of us who are domestically challenged to keep us on track
and pointers to get the job done.
Last week were were trying to pack away Christmas so I didn't
get on the schedule like I had planned.
But this weekend we got a lot of things accomplished around
here, so I am ready to go!
I also found a blog that is taking on organizing through
the entire year.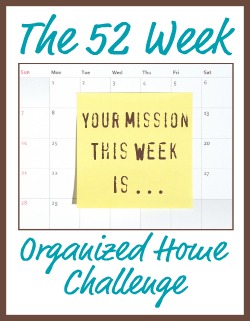 This site offers a schedule of areas to clean and organize
a week at a time through out the year.
This week is Kitchen Cabinets.
I am hoping to get this one on my schedule as well.
I think I can keep up since you have a week to accomplish the task.
I have a tendency to jump in and pull everything out
and then loose steam half way through, so having a week to get it done
will help me take it one small are at a time.
I did get our kitchen desk organized this weekend.
We have a long desk area in our kitchen that is wonderful.
Lot of cabinets above and below to store things,
but it also tends to be a dumping ground for all of us.
This is where our desktop computer usually sits
and the giant printer sat on top of the counter as well.
Along with Christmas presents that have not been put away,
miscellaneous baskets that need arrangements put in them,
and LOTS of things to be filed and just generally put away.
The computer is on it's last leg and we have not even used it
since we backed it up before Christmas.
So, I called Scott the other day and asked if I could
take it all apart and make plans to keep this area
a little more in check.
So, after a lot of sorting, a little shredding from the help of
this little guy...
He's my little helper...
of course, he is the cheif mess helper maker as well.
Love his little chocolate smile...those cookies were good!
Our kitchen desk, now, looks like this
Ahh...I think I can breathe again.
Everything has been put away and since the
tower for the desktop is no longer in the lower cabinet to the left,
I put the printer inside that cabinet so it is out of sight,
but still accessible to use whenever we need it.
I have plans to make a cork board to hang on the wall
above the desk, just need to find a nice frame
at Hobby Lobby when they are on sale.
That will hopefully hide the cords from the lights above the desk.
That is another thing I need to add to Scott's Honey Do list.
There are five ligths up there...only two are working.
Scott also hung these little wire baskets for me to use
to hold incoming and outgoing mail and such.
I think I might dress them up a little.
Maybe a ribbon or some cute little labels...
I'll see what I can come up with.
So, now I am off to clean my bathrooms to stay on track