While this week I am preparing for
Thanksgiving and eating way too much dressing...
Toni over at
is getting ready to host a little linky party
for Emergency Preparedness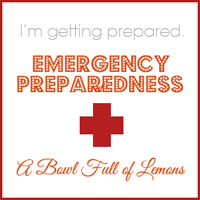 With the recent events on the East Coast,
it never hurts to be prepared.
And after the Tornado outbreak
from April of 2011, I know all too well
how bad things can get when you go without power
for a few days.
I can't wait to see all of the good ideas that
people come up with to help us prepare for the worst
and pray for the best!